About Us

MacMillan Amies Studio handcrafts a unique line of ceramic mosaic tile designed by founder Karen MacMillan Amies. These special tiles can be used as inserts in a bed of stone; as backsplashes to add character into a wall of field tile; or as floor tiles installed in an entrance way, bringing your home's foyer to life.
In 1978, Karen MacMillan Amies discovered the versatility of clay at the New Brunswick Craft School, thus beginning her passion for making pots and working in clay which has lasted for over 34 years. Approximately 10 years ago she switched to making ceramic mosaic tile, finding it a better fit for work-family balance. Presently, she focuses on developing new lines of mosaic tile that are uniquely designed to compliment current decor trends. These tiles promise soulful, inspired beauty and deliver a lasting impression of timeless charm.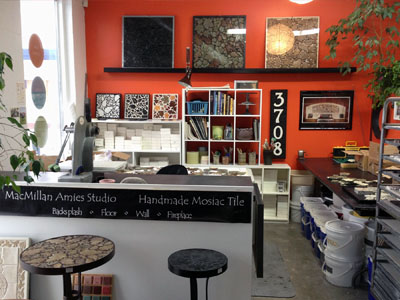 MacMillan Amies Studio is located in Cochrane, Alberta sharing studio and workspace inside Saffron Collective Studio. If you can locate "Ducks on the Roof", you will easily find MAS.
Contact us at mas-tile@shaw.ca to set up an appointment to visit the studio.